Lutein and zeaxanthin have been found to be essential for eye health, especially for the retina.
This nutrient-packed salad contains brussels sprouts and broccoli, both great sources of nutrients for retinal health. The anchovies and almonds also add a great omega-3 component, making this salad a healthy and delicious side dish for any holiday meal!

Ingredients
1 small head or 1/2 of a large head of broccoli
6 oz. brussels sprouts, trimmed, thinly sliced lengthwise
1/2 tsp. kosher salt, plus more
2 oil-packed anchovy fillets (optional)
1/2 oz. Parmesan, finely grated, plus more, shaved, for serving
1/4 cup olive oil
3 Tbsp. fresh lemon juice
Freshly ground black pepper
1/2 cup Castelvetrano olives, pitted
1/4 cup unsalted roasted almonds, coarsely chopped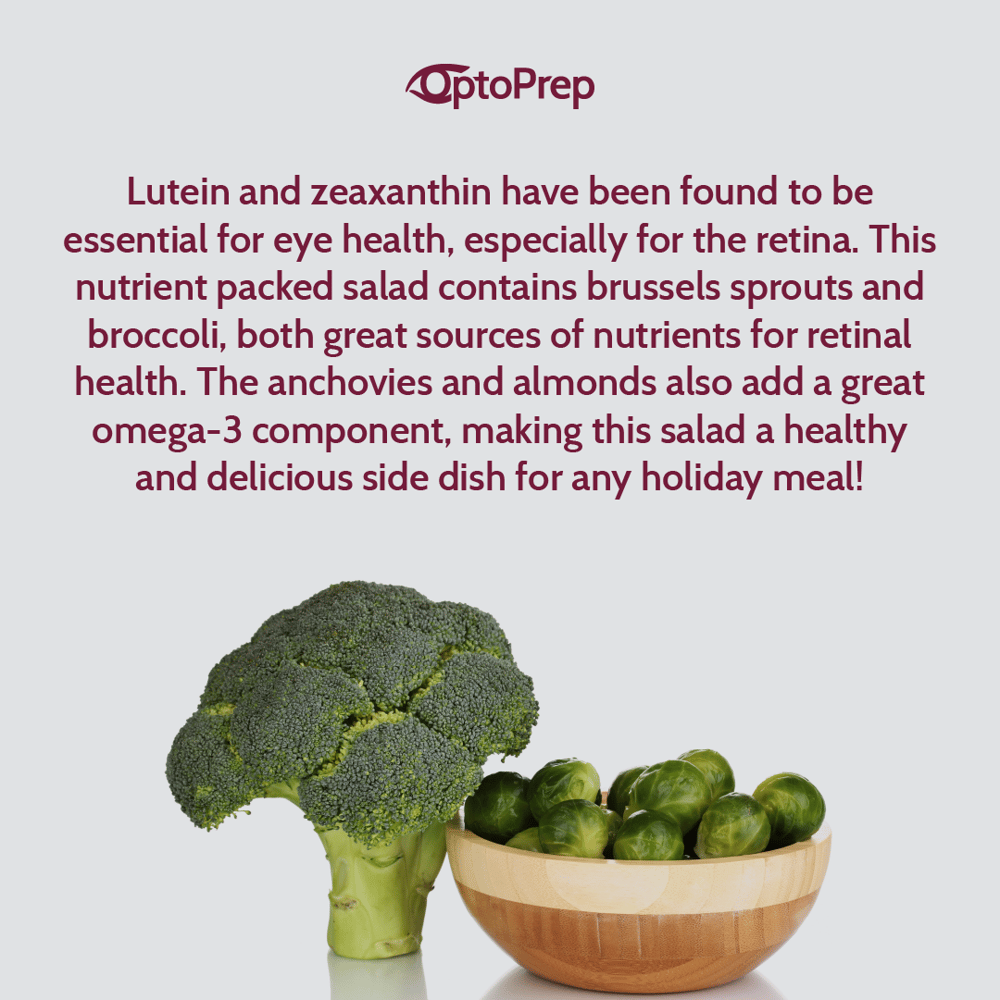 Instructions
Trim broccoli stalk and peel. Starting at the crown, thinly slice the broccoli head, including the stalk (you can slice both broccoli and brussels sprouts in a food processor). Combine broccoli and brussels sprouts in a large bowl and toss with 1/2 tsp. salt. Let sit for 10 minutes.


Chop anchovies (optional), then mash to a paste with the side of a chef's knife. Combine anchovies, grated Parmesan, oil, and lemon juice in a small bowl; season with salt and pepper. Drizzle over slaw; toss to coat. Serve topped with olives, almonds, and shaved Parmesan.