Glaucoma management has become a very hot topic in the past couple of years with the approval of several new topical ophthalmic medications, the advances in glaucoma surgical procedures, and the many new treatments that are still in the pipeline!
Let's review the four new topical glaucoma medications that were recently approved by the FDA that we can add to our armamentarium for treating elevated intraocular pressure in our patients.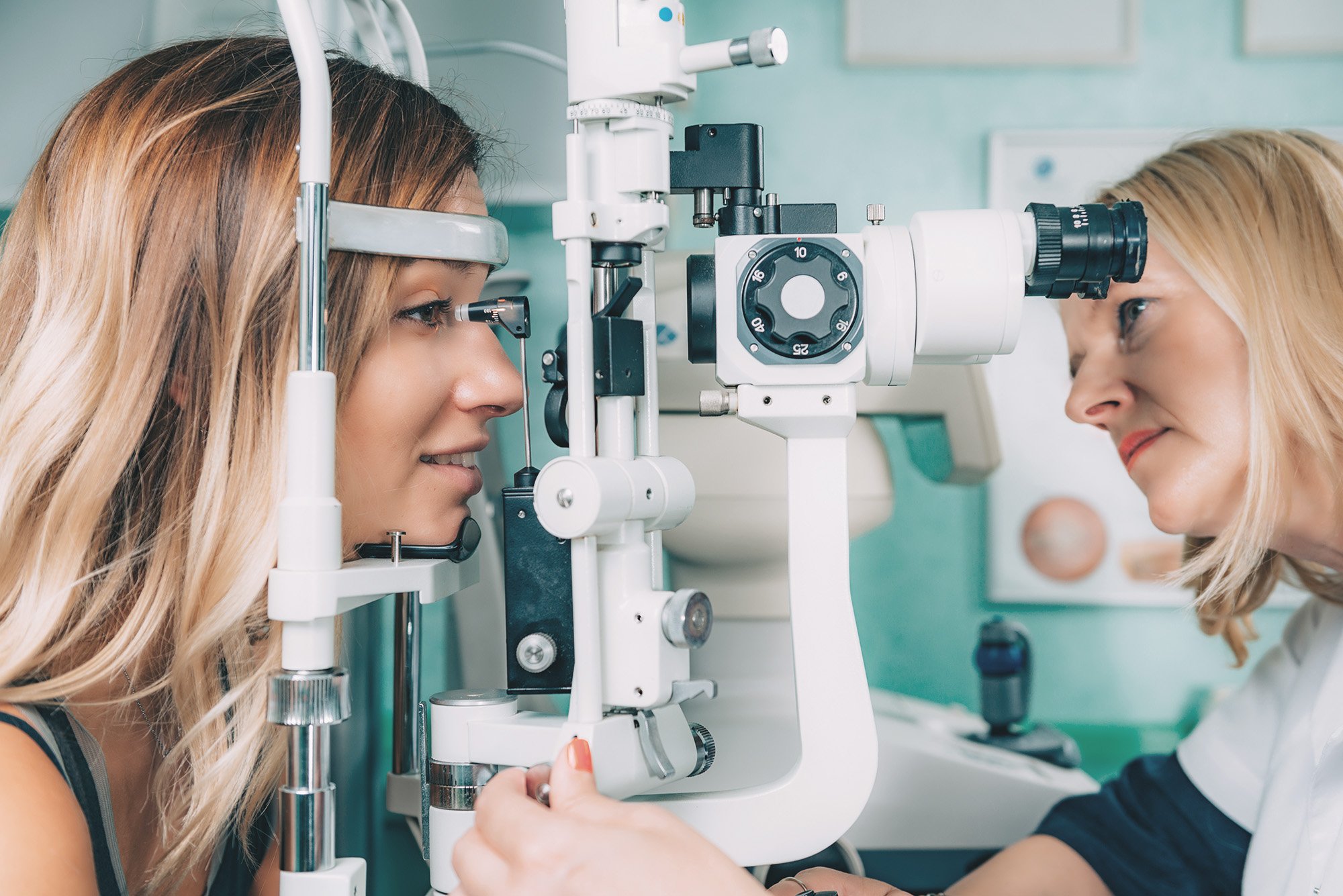 Rhopressa®
Rhopressa® (netarsudil) is a topical glaucoma medication used for the treatment of elevated intraocular pressure that was released in 2017. It is considered a rho-kinase (ROCK) inhibitor. Rho-kinase is widely expressed in many tissues, including the trabecular meshwork, where it promotes the association of actin stress fibers and is involved in regulating cell contraction.
ROCK inhibitors primarily increase aqueous outflow through the trabecular meshwork by decreasing actin and myosin-driven cellular contraction and also by reducing extracellular matrix protein production. In a normal eye, the main drainage pathway for the aqueous humor is the trabecular meshwork; however, until Rhopressa® became available, glaucoma medications failed to target this tissue. Most medications acted on the uveoscleral outflow pathway.
Rhopressa® also shows inhibitory action against norepinephrine transporter (NET), making it technically a ROCK/NET inhibitor. This mechanism is believed to decrease aqueous production as a result of reduced blood flow to the ciliary body through norepinephrine-induced vasoconstriction.
Rhopressa® is manufactured by Aerie Pharmaceuticals. Its concentration is 0.02% and comes in a 2.5ml bottle. It is approved for once-daily usage, preferably in the evening.
Vyzulta®
Vyzulta® (latanoprostene bunod) is a variant of the prostaglandin analog category. This medication has a dual mechanism of action in which it has been shown to decrease intraocular pressure by increasing uveoscleral outflow and enhancing trabecular meshwork outflow through the impact of nitric acid.
The added action of nitric oxide results in an additional IOP reduction of approximately 1 mmHg vs. latanoprost alone, with a total decrease in IOP ranging from 7.5 to 9.1 mmHg.
Vyzulta® is manufactured by Bausch + Lomb. Its concentration is 0.024% and comes in a 2.5ml and 5ml bottle. It is also dosed for once daily usage in the evening.
Xelpros®
Xelpros® is the newest formulation of latanoprost (prostaglandin analog). It is the first latanoprost product that is not formulated with the preservative benzalkonium chloride (BAK). It is developed with LIPIXELLE, a novel micelle microemulsion formulation. LIPIXELLE technology encapsulates latanoprost within polymer/castor oil micelles. As the micelles migrate toward the ocular surface, they break apart, releasing latanoprost onto the ocular surface for easier penetration. Other components of the micelle structure (castor oil, polymer) then supplement both the lipid and aqueous layers of the tear film.
Randomized clinical trials showed that Xelpros® reduced IOP in patients with open-angle glaucoma and ocular hypertension up to a mean of 6-8mmHg (similar to Xalatan®).
Xelpros® is manufactured by Sun Ophthalmics. Its concentration is 0.005% and it is produced in 5ml bottles. The recommended dosage is one drop once per day in the evening.
Rocklatan®
Rocklatan® is the newest kid on the block, approved by the FDA in March 2019. It is a fixed-dose combination of netarsudil (Rho kinase inhibitor) and latanoprost (prostaglandin analog). As it is a combination medication, its mechanism of action is that of both Rhopressa® and Xalatan®. It is thought to increase aqueous outflow through both the trabecular meshwork and uveoscleral pathways.
Initial clinical trials showed that over 60% of patients on Rocklatan® reached IOP reductions of 30% or more, which is nearly twice as many as those using latanoprost alone.
Rocklatan® is manufactured by Aerie Pharmaceuticals. Its concentration is 0.02% netarsudil and 0.005% latanoprost and it is produced in 2.5ml sized bottles. The recommended dosage is one drop in the affected eye once daily in the evening.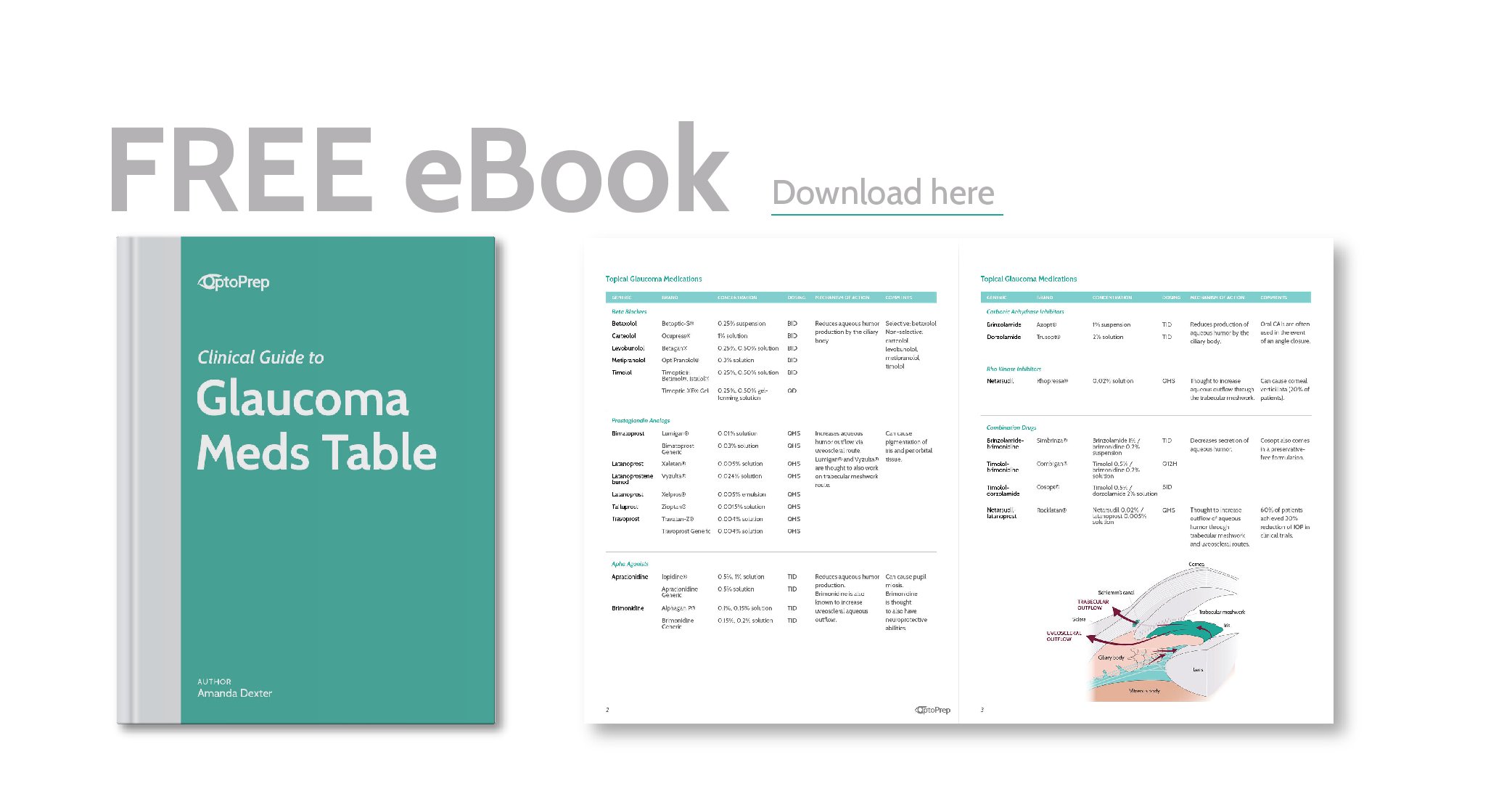 Clinical Guide to Ophthalmic Glaucoma Medications book cover_Clinical Guide to Glaucoma Meds-06 Topical intraocular pressure (IOP) lowering medications are typically the first-line treatment for patients with elevated intraocular pressure. The drugs used to treat glaucoma are classified based on their active ingredient.
Over the years, glaucoma medications have come and gone from the market, so we've put together a quick reference chart of all the currently utilized topical drugs, their formulations, dosage schedule, and mechanisms of action.
Just click the download button!