Over the past couple of months, NBEO has made several updates in regards to exam eligibility, diagnostic score reports, and the addition of a new procedures examination. Let's review the details...
LASER and Surgical Procedures Exam (LPSE)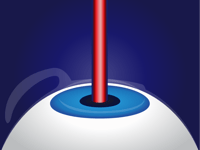 As many states are fighting to increase scope of practice for optometrists, NBEO has decided to develop a LASER and Surgical Procedures Exam (LPSE).
This exam will be designed to serve as a tool in the credentialing process of any state board that wishes to assess optometric knowledge and skills with regards to certain LASER and surgical procedures.
These procedures include Selective Laser Trabeculoplasty (SLT), Laser Peripheral Iridotomy (LPI), YAG capsulotomy, suturing, and chalazion excision.
Upcoming Changes to Exam Eligibility
Beginning August 1, 2019, NBEO will make changes to its Examination Eligibility Policy so that candidates taking NBEO examinations will be limited to a total of 6 attempts for each part of the exam (Part I, Part II, Part III, and Injections Skills Examination). This will include, but is not limited to all attempts prior to August 1, 2019.
NBEO states that "After much discussion and consultation with the Association of Regulatory Boards of Optometry (ARBO), and their member boards, it became apparent that this is a critical step towards ensuring protection of the public and the integrity of the examinations."
The NBEO will have an appeals process including submission of a remediation plan for individuals who wish to appeal beyond the six-time limit.
Diagnostic Score Report Updates
The NBEO has recently made 3 changes to the candidate diagnostic report in order to improve the overall clarity and understanding of these reports.
First, the National Summary statistics for Part I, Part II, and Part III are no longer included on the diagnostic reports as the NBEO found that these statistics often drew candidates' attention away from their individual performance.
Second, for Part I and Part II, all raw scores have been removed from the diagnostic report and have been replaced with the candidate's percent of correct responses for each discipline, content areas, and condition. This should allow for better consistency in reporting.
Lastly, sub-discipline data have been removed from the diagnostic report.
We recommend that you continually check the NBEO website as there are often updates that you should be aware of!