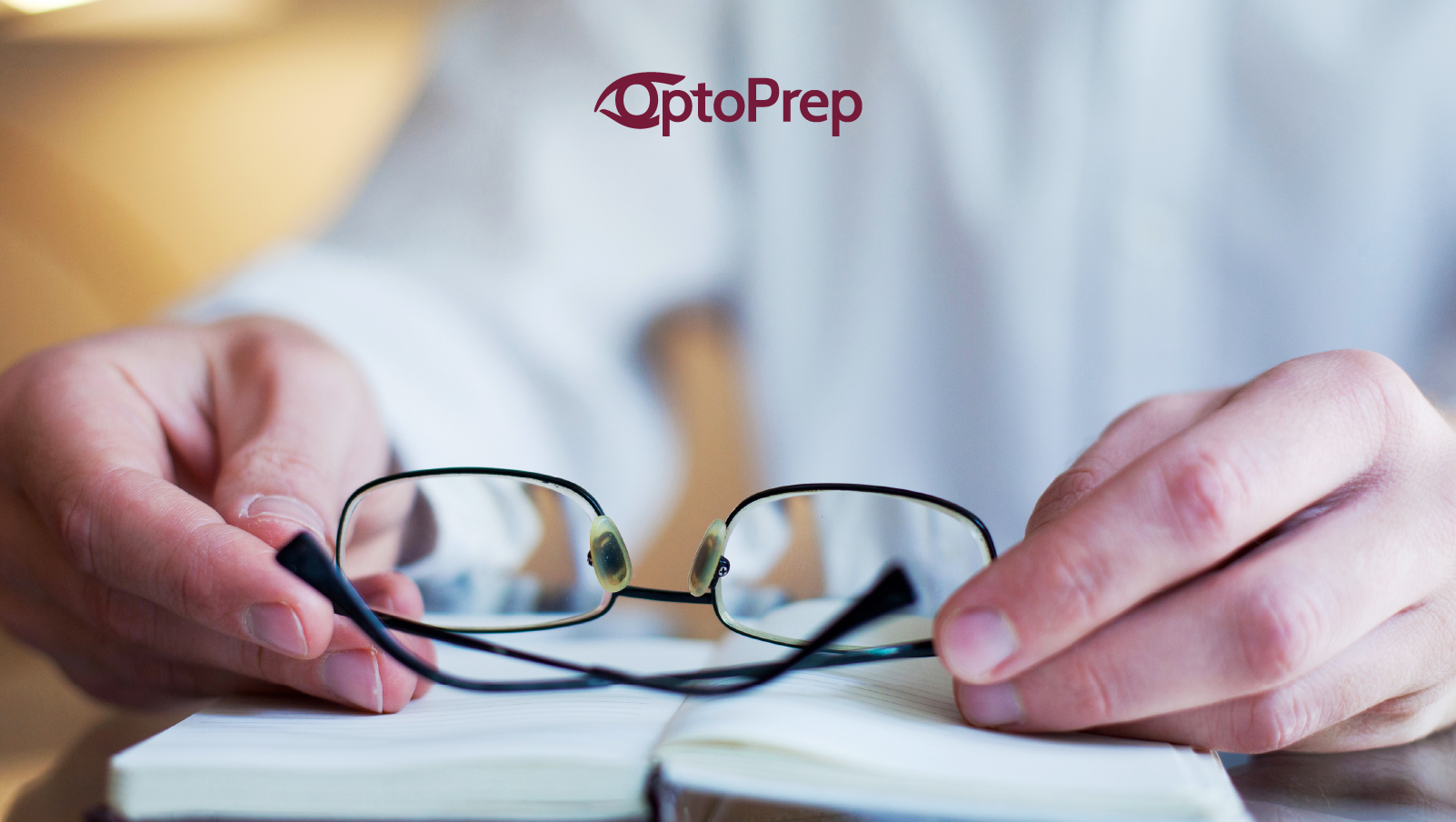 Patients often come in wearing or asking about office glasses, computer lenses, or workspace lenses. Despite their names, these products are all referring to usually one thing: the near variable focus progressive.
Living in the age of multiple working distances, the usual reading glasses or standard progressives don't really give patients the flexibility to toggle between multiple working distances, which has become the norm.
So what are near variable focus lenses? They're modified progressive lenses that allow for comfortable vision in work settings, primarily on the computer. Given the narrow area designated for intermediate vision on a standard progressive lens, in a near variable focus lens, most of the distance area is eliminated in order to account for a larger intermediate and computer area.
This helps patients not only with comfortable vision while they work on the computer but with a posture that is compromised by using the wrong lens design for a given task. Patients also state it helps with less head movement and better functionality while sitting in their workspace.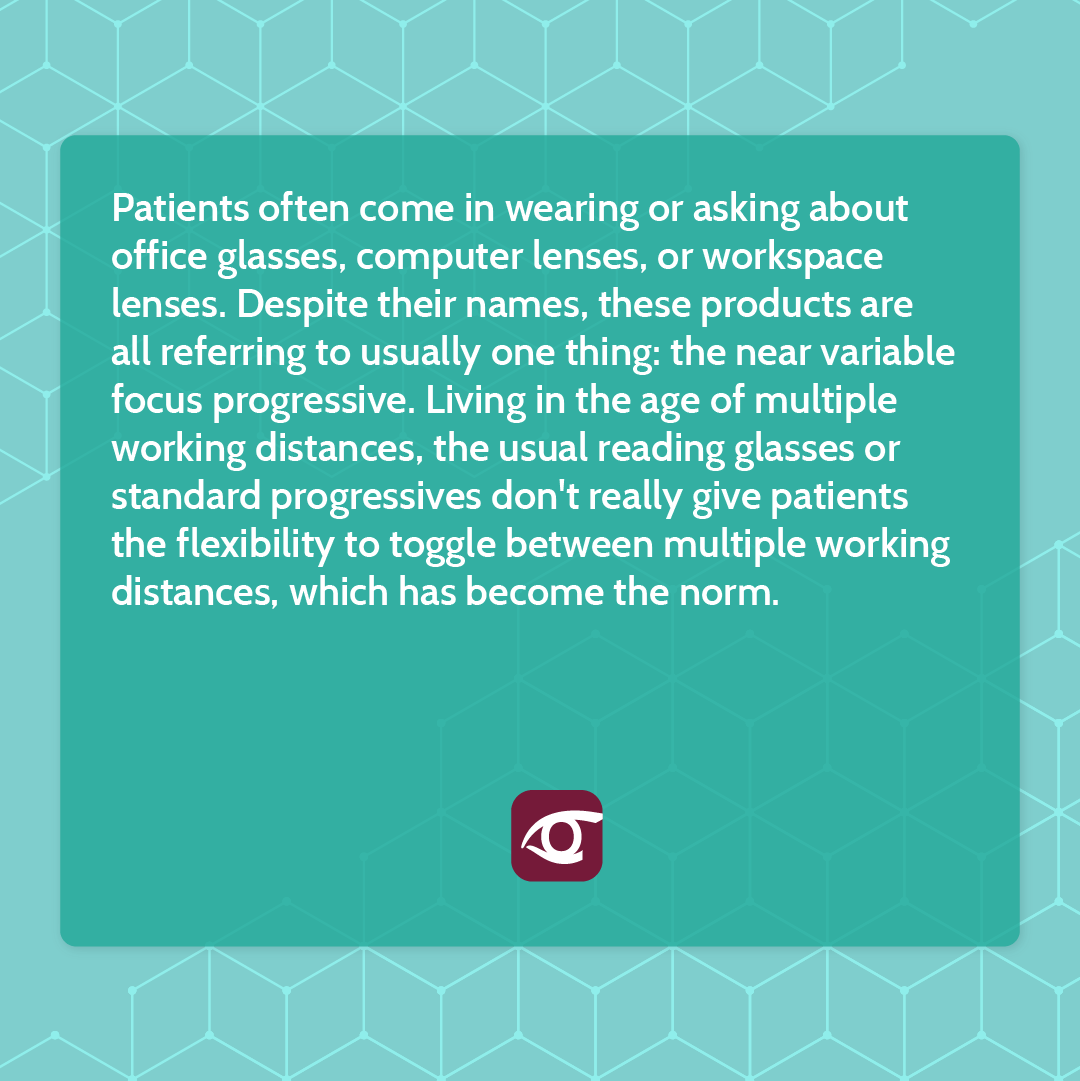 Though they are primarily made for a computer setting, near variable focus lenses can be helpful in other settings as well. In fact, they are great for anyone performing tasks less than an arm's length away on a regular basis. These patients will often complain of back pain, bad posture, and headaches. These lenses will not only solve their vision problems but their physical symptoms as well!
It's also important to mention that these lenses do not come one-size-fits-all. Different manufacturers have their take on the near variable focus lens. Each lens manufacturer has come up with its own design and own specifications. If you're just getting started, I would highly encourage researching the types of lenses that are available via the labs you use, as well as the insurance panels you are contracted with. After that, take each lens and look at the specifications and "selling-points'' to see the pros and cons of each one. After narrowing down to the two or three that you like, for any reason, try them out on office staff, patients, or even yourself to understand the lens and become proficient in troubleshooting.
After you're confident in the designs, you're ready to prescribe! Taking a thorough patient history along with occupation and hobbies will allow you to pinpoint problems the patient didn't even know they had! Ask about computer use, whether the patient uses a laptop or desktop computer, the number of monitors, and other tasks they perform on a daily basis.
This will help you identify what lens designs, whether it's a standard progressive, a near-variable focus lens, or both, will benefit the patient. I always recommend helping the patient prioritize what lenses they need, even if sometimes it's more than one. Make sure to keep the patient informed about the lenses that are available on the market and allow the patient to decide what works for them! Some optometrists tend to be budget conscious and only let the optician determine what kinds of lenses will work for the patient. If you are not making all the necessary recommendations based on the patient's needs, you are doing your patient a disservice.
In private practice, I rarely prescribe just one type of optical correction. Whether there's an occupational pair of glasses, sunglasses, or even contact lenses the patient uses occasionally, I always like to present the patient with all of their options and allow them to make decisions based on what will be beneficial to them and their lifestyle. Doing this tailor the exam to each patient and makes them feel heard and taken care of. Do this to build trust and solve patient problems to grow your practice!
~ Dr. Amadian